***DANGER - SPOILER ALERT - If you haven't seen The Adjustment Bureau but still want to, do not read any further.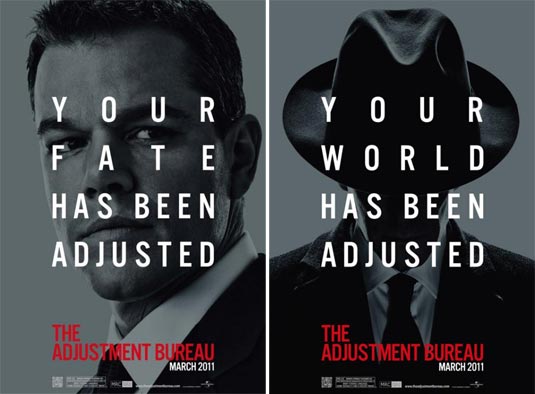 While we watched the
Adjustment Bureau,
I had several questions as did many of you. Here were a few of them:
1. Who was the Chairman? Did Norris and / or Elise see the Chairman during the film or was it earlier in their lifetimes before the film ever began?
2. When Harry said to Elise and Norris that the Chairman rewrote the plan, the book showed a blank space ahead for the two of them. What do you think that meant?
3. Alexis and Cheyenne asked why there weren't any female adjusters. I didn't have an answer for them as to that question. I also criticized the film's Western / Euro - centered bias when it talked about giving mankind free will during the Roman times and the Cuban Missile Crisis. Assess the film in light of these flaws.
4. Is Harry the Chairman? Why or why not?
5. Think about Harry's crisis of conscience when Elise and David broke up for the 3rd time (when he left her at the hospital), and he asked Richardson about the rightness of the plan. Put yourself in one of the adjusters' shoes and try to make sense of it all when you're only given part of the picture.
6. Looking at Harry's statement at the end (see below), what do you think is the filmmaker's message? Why?
"Most people live life on the path that we set for them to afraid to explore any other [path]/ Sometimes, someone like you comes along and knocks down the obstacles that we put in your way. People should realize that free will is a gift that you'll never know how to use until you fight for it. I think that's the Chairman's real point. And maybe one day, we won't write the plan, you will."
Pick

two

of these questions and answer them for tomorrow, Wednesday, Oct. 5 before class begins.
250 word minimum. Thanks.